How To Install Artificial Grass With Detailed Paving Around Pool Area In San Diego?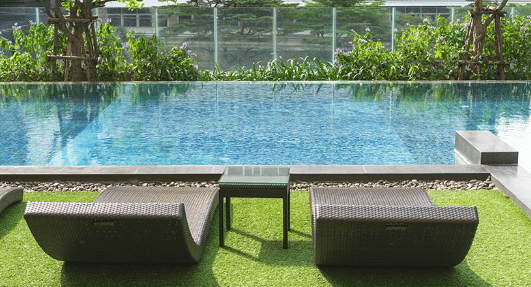 Artificial grass can be a great option for creating an outdoor oasis around your pool. Not only is it aesthetically pleasing, but it can also help you conserve water and reduce lawn maintenance. Installing artificial grass with detailed paving around a pool area can be challenging and time-consuming, so here are some tips to make the job easier:
Take accurate measurements of the pool and surrounding area before beginning installation to ensure that the right amount of turf and paving materials are purchased. This will save time in the long run by avoiding any unnecessary trips back to the store for more supplies or having extra leftover at the end of the project.
Clear away any existing vegetation from within 1 foot from the pool's borders and excavate any existing soil to a depth of 8 inches. Compact the new subsoil and make sure that it is level before installing the artificial grass.
Avoid stretching the turf when laying it down, as this can cause some components to separate from each other over time. Instead, roll out the pieces of turf side-by-side and butt them together tightly with no gaps in between.
Use an adhesive such as construction adhesive to secure the edges of the turf around the perimeter of the pool area, ensuring that they are flush against one another and securely anchored in place.
Spread infill over top of the turf and use a rake to work it into the turf's fibers. This will help keep the grass blades upright and prevent matting over time.
Before laying down pavers around the pool, mark out where each paver should go with chalk or spray paint. Then lay them down in an alternating brickwork pattern, making sure that there are no gaps between the stones in order to achieve a professional look.
To protect against water damage and staining from chlorine, seal all of your pavers using a stone sealer once they have been installed around the pool area.
FAQ's
Can Artificial Grass Be Laid On Paving Slabs?
Yes, artificial grass can be laid on paving slabs. However, it is important to ensure that the surface is level and all existing vegetation has been removed before laying down the turf. Additionally, it may be necessary to use an adhesive to secure the edges of the turf against one another in order to prevent shifting or separation over time.
Is Infill Necessary For Installing Artificial Grass?
Yes, infill is essential when installing artificial grass around a pool area. The infill helps keep the blades upright and prevents matting over time. It also provides shock absorption for any activity taking place on top of the lawn and assists with drainage by allowing water to pass through more quickly.
Can You Put Artificial Grass Around A Pool?
Yes, artificial grass can be used around a pool area. It is a great way to create an inviting outdoor oasis without the hassle of maintaining a real lawn. Additionally, it helps conserve water and reduce lawn maintenance costs in the long run.
Conclusion
It is possible to install artificial grass with detailed paving around a pool area, but it is important to ensure that all steps of the installation process are done correctly and efficiently. For more information, contact Artificial Grass San Diego at (619) 324-3600.